Shop small and local for fab accessories online
Accessories are a great way to extend your wardrobe and add your personal style to any outfit. Whether it be jewellery, shoes or bags – there are sensational accessories available online from small businesses all over Australia. The styling is endless: it can be soft and demure, earthy and natural, colourful and fun, or bold to make a statement.
This month our post features diverse Australian-based businesses that offer a wide range of unique women's accessories online. There is something to appeal to lots of different styles and tastes – let us know which one is your favourite. Choose from:
Bidiliia

Studio Katinka
Jubly-Umph
Bebe Bola
Deon Dane
Charlie Middleton
Modella Clothing (ok that's us!)
Otto & Spike
Jewellery – personalise your look
Bidiliia: classic, timeless, beautiful
Bidiliia's ethically made jewellery is timeless and luxurious, designed in Australia, and handcrafted responsibly by artisans in Menorca, Spain.
It features hand-moulded pewter and brass pieces in classic gold, including these three stunning pieces – from left: Shining Star Ring, Spring Leaf Ring and Spring Leaves Earrings.
If shiny elegance is more your style, these earrings which incorporate beautiful Swarovski crystal elements are perfect. Choose from left: Magma Glammars, Vintage Glam Set and Ma Cherie earrings.
Interested to see more? View the entire Bidiliia range of women's accessories online.

Studio Katinka: colourful, fun, creative
If you are looking for individual, Australiana-inspired jewellery, check out the colourful range from Studio Katinka. All the pieces are handmade with love in Melbourne. Owner, Katinka Kernutt, combines her love of photography by showcasing her products with beautiful images on her website and social media channels.
Here is a sample of the unique designs – from left: Melbourne Blue Silk Tassel Earrings, Autumn Leaves Pendant and  Magenta and Aqua Pattern Stud Earrings.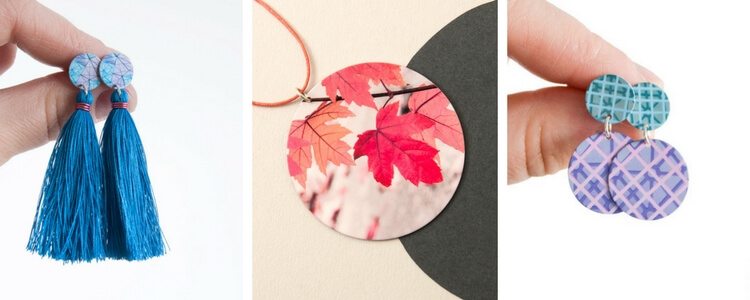 Jubly-Umph: fearless, bold, quirky
Victorian-based Tasha Miller is the feisty owner of Jubly-Umph, she oozes attitude and we love it! Her cheeky and bold approach rules her style and there is no hiding in the corner if you choose an item from her quirky range of lapel pins, brooches and earrings. If you want to stand out in the crowd and make a statement, look no further than Jubly-Umph.

Bebe Bola: beautiful jewellery to match your baby bump
View this post on Instagram
Bebe Bola was born to offer a modern, stylish option for celebrating pregnancy, motherhood and new parents. The range of pretty jewellery is sure to be loved by all mums to be.
Featured below are two of their gorgeous pieces: the Harmony Ball Necklace and Baby Bee Charm.
Watches – iPhones tell the time but…
Deon Dane: minimalist, fashionable, sustainable
Operating from the beautiful  Bondi Beach in Sydney, Deon Dane is an Australian designed unisex watch brand that combines modern, cool styling at affordable prices.
Deon Dane utilises kangaroo leather straps into their designs as an eco-friendly alternative to other leathers and synthetic materials. The result is stunning simplicity. Interested to learn more? Check out our recent Deon Dane blog post.
Looking for something for the man in your life? Read this post for Australian watch labels that you may also want to borrow!
Bags – a personality of their own
Charlie Middleton: understated, functional, bespoke
Ben and Margaux Thompson are the duo behind Charlie Middleton, an Australian leather accessories label that is proudly owned and operated from their Bondi workshop. Every item is handmade and crafted with understated elegance. Check out the bespoke collection for a unique touch to your wardrobe.
Check out these gorgeous bags – from left: Charlie 91 Tan Nappa, Oliphant Suede Bespoke and Charlie 52 Navy Nappa.
Modella Clothing: affordable, stylish, boho
Modella Clothing is an Australian-based family owned business specialising in affordable, stylish labels.
Is boho-chic styling the look you are aiming for? Check out these stunning bags and purses by Australian brands, Louenhide and Sassy Duck. Both labels have signature detailing using luxe faux leather, washed canvas and feature star motifs. For more fashion inspiriation, view the full range of Modella's women's accessories online.
Knits – made the old fashioned way
Otto & Spike: warm and cosy, bold, ethical
With winter approaching, beautiful knits can add a final touch to your outfit while keeping you snug and warm. Melbourne-based Otto & Spike, has been producing knitted accessories from their Brunswick location for over 40 years. Check out the fantastic selection of Australian-made scarves, beanies, gloves and much more – from left: Spanish Red Birdy Scarve, Raspberry/Emerald Wingdings Beanie and Pink Gloves.
We hope this post will help you find that individual piece when shopping online for that special accessory, to add the finishing touch to a new outfit, or revamp an old favourite.
If you are new to online shopping or want to learn more about it, check out this post for our top 10 tips for online fashion shopping.
Looking for more jewellery inspo? Check out this post by Janine Leghissa from Desiderate on the larimar stone – it looks just stunning as boho-inspired jewellery and comes with positive energy vibes too!